Tuesday 14 December 2021-Demonstrator-  Hazel McLeod.    'All Spruced Up'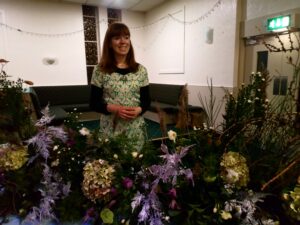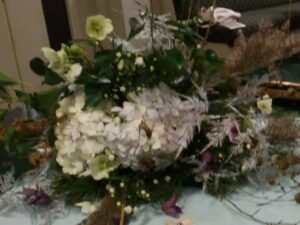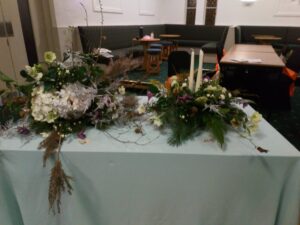 Hazel an experienced florist with an artistic talent Demonstrated how to decorate a fireplace and other Christmas arrangements for the home
We also held our Christmas Raffle for a variety of gift vouchers and at our sales table there were do-it -yourself table decoration kits-we hope you had fun.
Tuesday 16 November 2021-Demonstrator -Derek Morgan -'In The Frame'-On Tour
Derek made a welcome return visit to our club. He showed members how to open tight rose buds by blowing short bursts onto the bud, something for us to try!
Here is Derek and a few of his designs .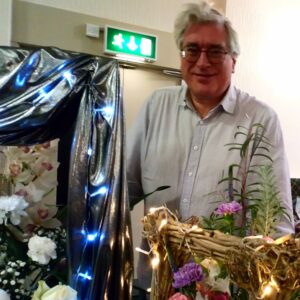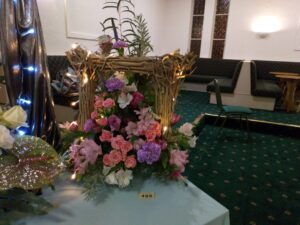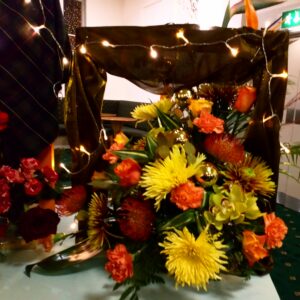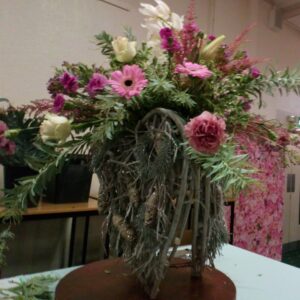 19 October 2021-Demonstrator- Elizabeth Bishop -'Colour my World'-On Tour 
Our demonstrator this month entertained our members with tales of life as a member of crew on Malaysian Airways, her many tours leading groups of flower enthusiasts on their travels as well as her voluntary work with rescue golden retriever dogs and donkeys. Elizabeth is currently planning to open her garden next year to aid fund raising .
Here are a few of her amazing designs
21 September 2021-Demonstrator-Pamela Galloway -'How did I get Here'
'We are back' It was great to see so many of our members at our first meeting in so many months. Our demonstrator was Pamela Galloway from Limekilns, Artist, teacher, floral designer, Chelsea medal winner, and she has also achieved several commendations in virtual international competitions held during lockdown.
Here are a few of her designs