18 February 2020-AGM-Speaker- Madeleine Tinson and Flower Demonstrator Anne Buchan
Our AGM was held in our new venue and members were enthralled with the enthusiastic visual presentation from Madeleine, detailing the development of her wonderful garden at Parkhead which hosts a national collection of Mylnefield Lilies.
Madeleine Tinson-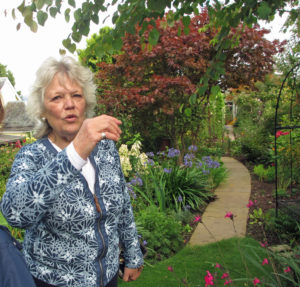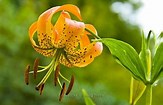 This was followed by floral arrangements inspired by Madeleine's talk from our own Anne Buchan.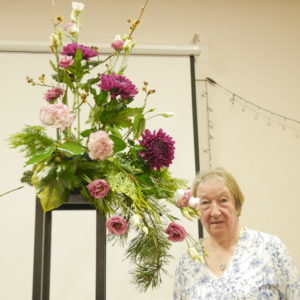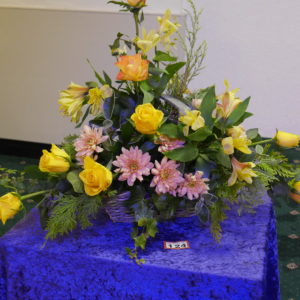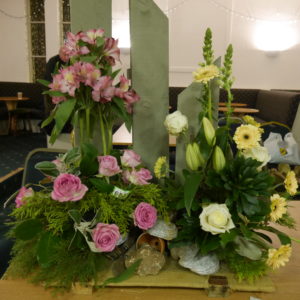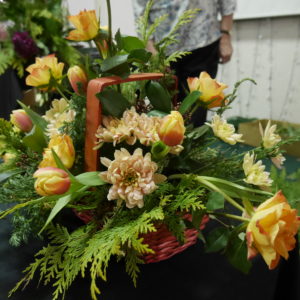 During our AGM our retiring Chairperson Freda Scott was presented with flowers by Jane Pennington, Committee member in recognition of her hard work and leadership during her time in office.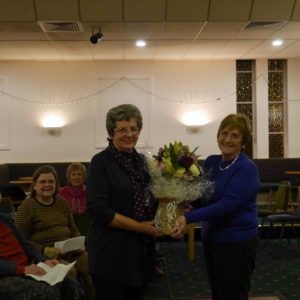 Past meetings for 2019
19th November –  Patti Dawson from Penrith chose a title for her floral demonstration of " Twas the Month Before Christmas".
Her designs exemplified the recent frosty conditions with unusual foliage and subtle flower choices. Some glitter and baubles did offer a glimpse of the coming festive season. Those lucky raffle winners of the arrangements were the envy of the evening.
Thank you Patti for an excellent demonstration.
17 September –Jane Gordon from Elderslie had us all enthralled with the delights of her cellar treasures.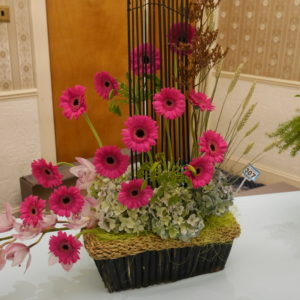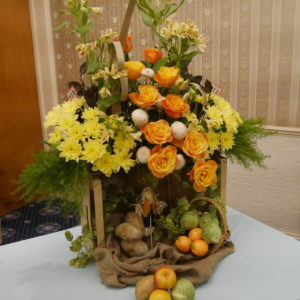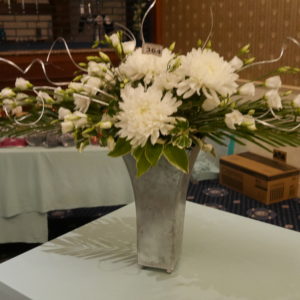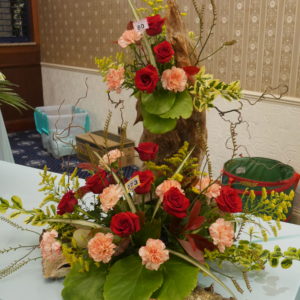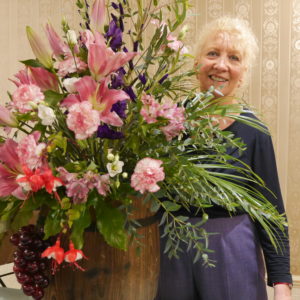 21 May- 'Blossom Time'-Lillias Hoskins-as Lilias  was unable to attend  so demonstrator Linda Soutar stepped in and wowed club members with her floral arrangements and humour-unfortunately I left  my camera at home!!!!!!
16 April-'Destinations'-Lynn Stott from Preston
Lynn delighted members with her lovely designs and informative delivery, her designs.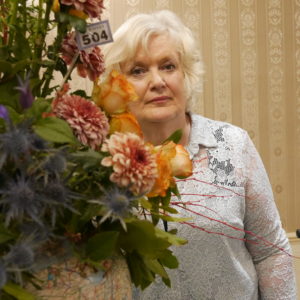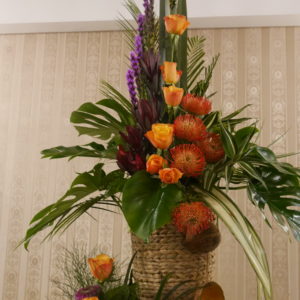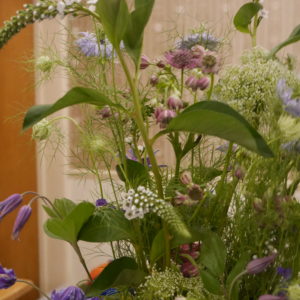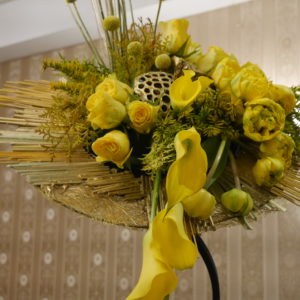 19 March-'March Madness'-Steve Ludlum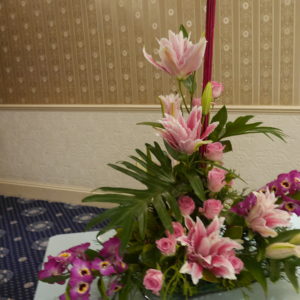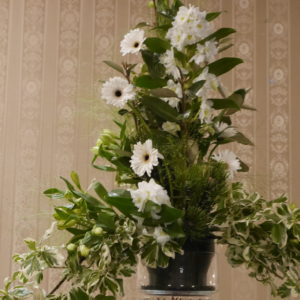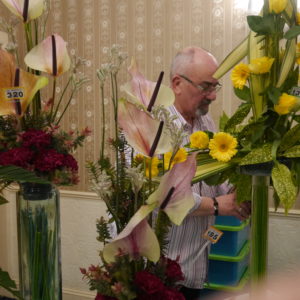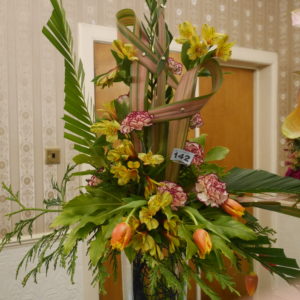 Steve's demonstration utilised a variety of glass  containers, each arrangement was accompanied by interesting and informative facts about the propagation of the flowers. Steve was also presented with the trophy he won during SAFAS Autumn show.
19 February 2019- AGM plus 'A Brush with Colour' – Mrs Christine McKenna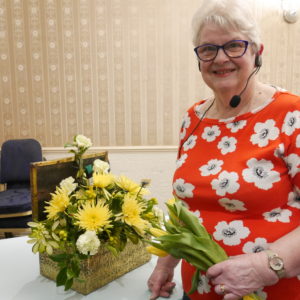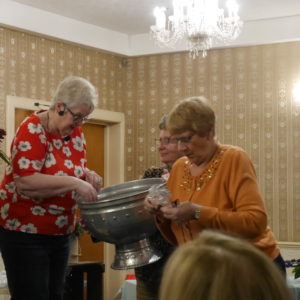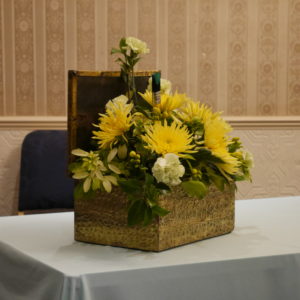 Christine cheerfully entertained members and visitors during our AGM with her demonstration of 'A Brush with Colour' and hilarious stories from her experiences as a demonstrator.
Past Meetings for 2018
11 December 2018-'Christmas Memories'-  Audrey Buchan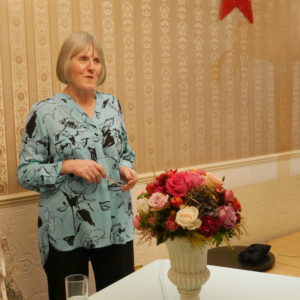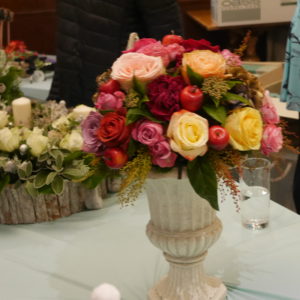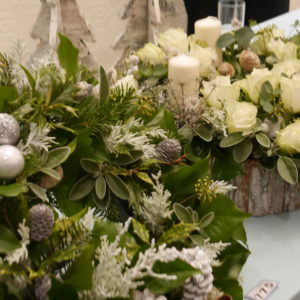 Audrey shared her favourite Christmas memories with her innovative designs.
20 November 2018-'Here comes Christmas'-Kathleen Gibson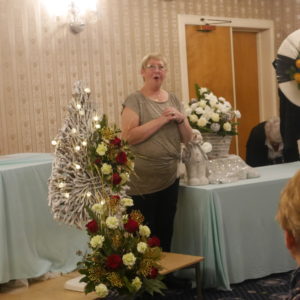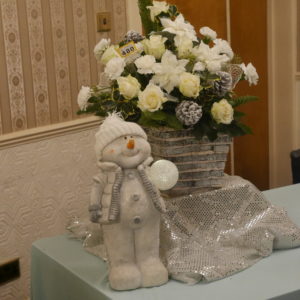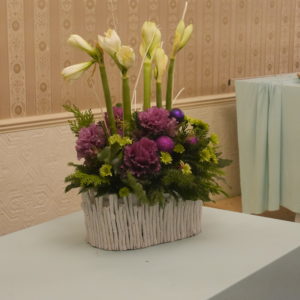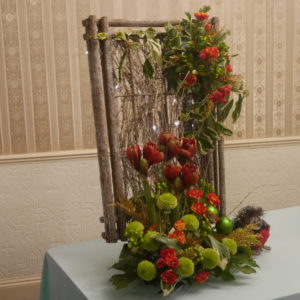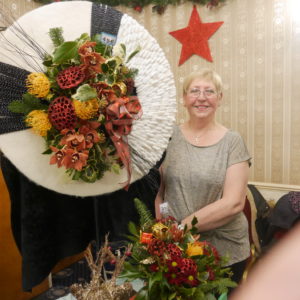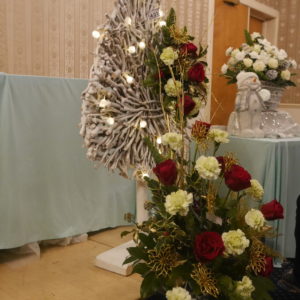 Kathy's 'Here comes Christmas' demonstration was warmly welcomed by all who attended. Kathy related many warm and funny stories as she created her seasonal arrangements.
Sunday 28 October- Diamond Anniversary Celebratory Lunch 
'Diamonds are Forever' -John McDonald
A fantastic celebration to mark our 60 years took place on Sunday 28 October.
here are a few of the photos taken on the day.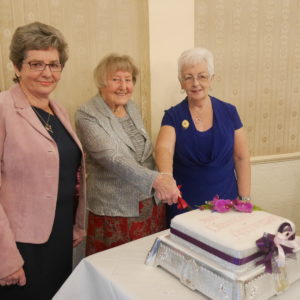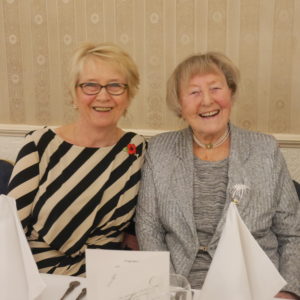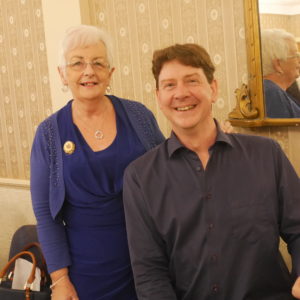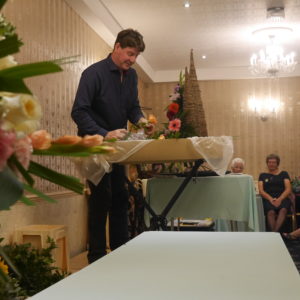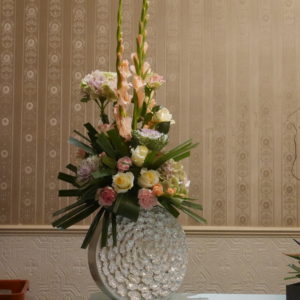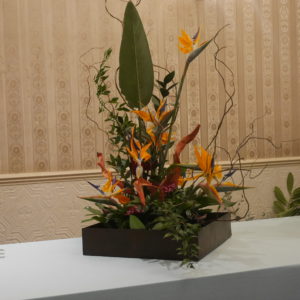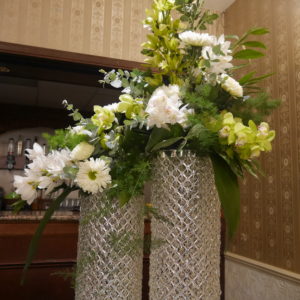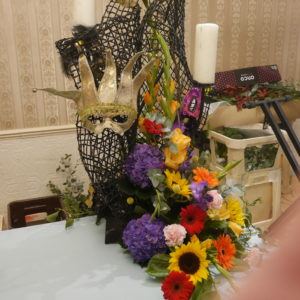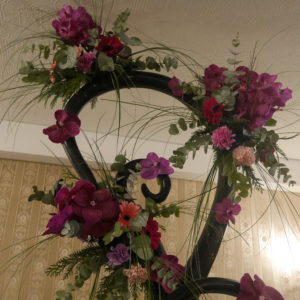 SAFAS Falkirk Show-'Window on Autumn'-19/20 October
Members entries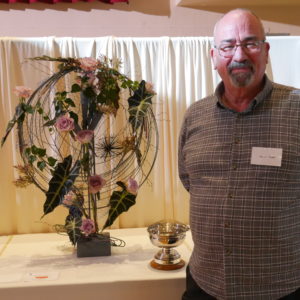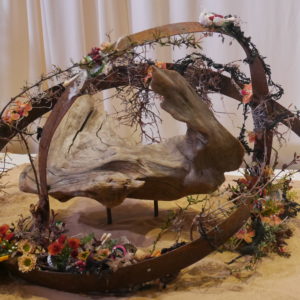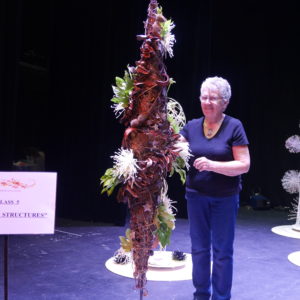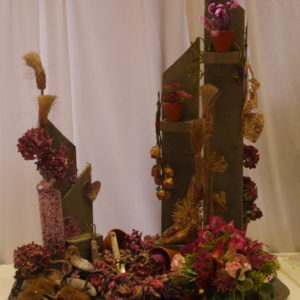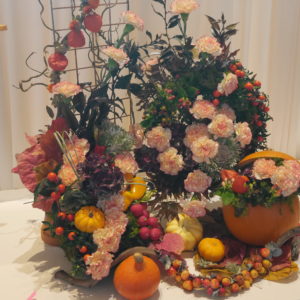 16 October 2018 -'Hands On' Members Night an opportunity to see and do it for yourself.
Members really enjoyed trying out new skills, Foliage Manipulation, Christmas Floral arrangement, Jewellery Making and Iris Card folding.
The pictures below show the concentration!!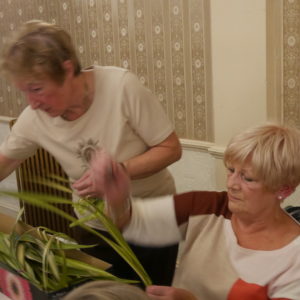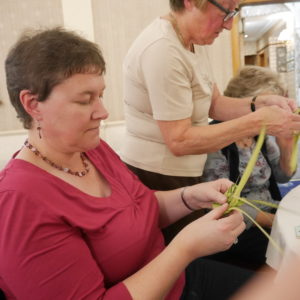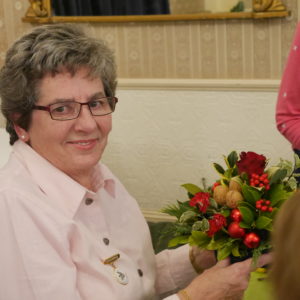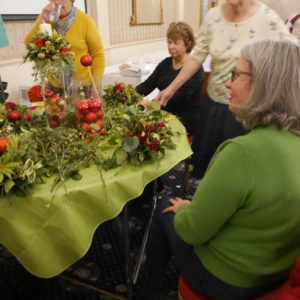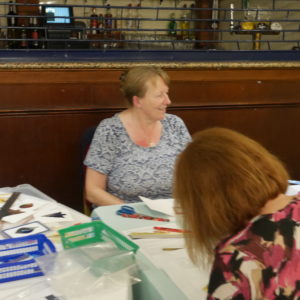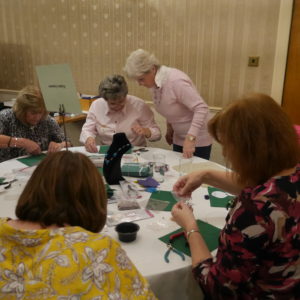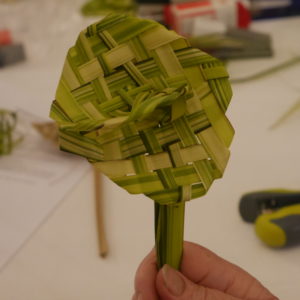 18 September 2018-'Something Special'- Mrs Gillian Page
Gillian vowed us with her creative wearable floral arrangements, lots of stories and  many laughs.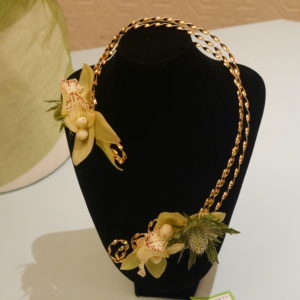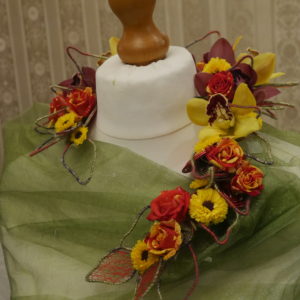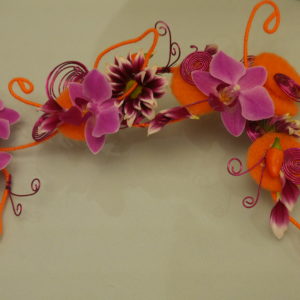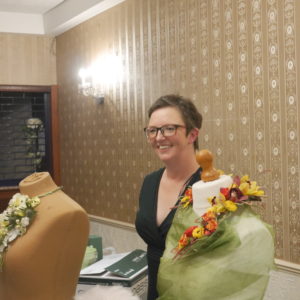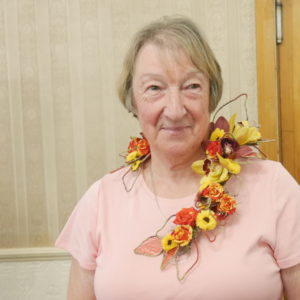 15 May 2018-'This is how I do it'-Mr Jim Davidson
Jim inspired and entertained members with his arrangements all 'done his way!!'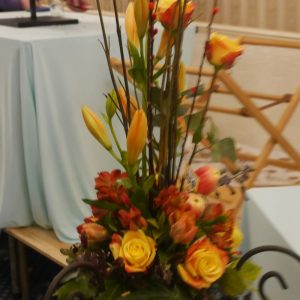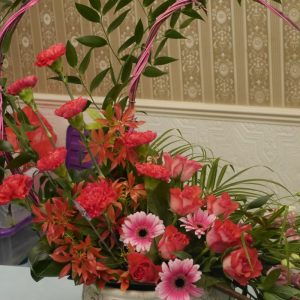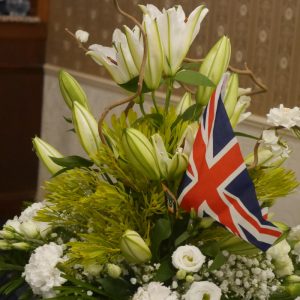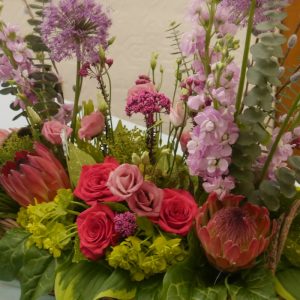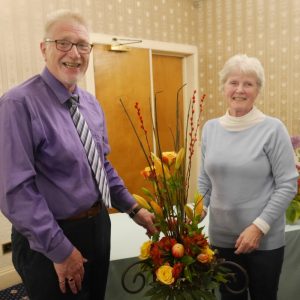 Jim and Lindsay who won this arrangement in the raffle
17 April 2018-'Inspirations'-Gill Garrow
Gill had us all in fits of laughter with her entertaining delivery of her floral arrangements 'Inspirations'.
Gill shared memories of the holidays, people and occasions as her arrangements took us on a journey to The Rockies, fishing on the Spey, South African whale watching, hippos outside her tent and sampling vineyards.
Below are some of her designs-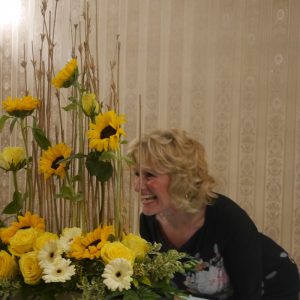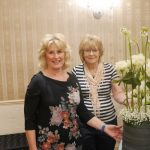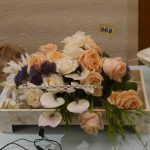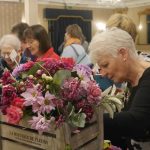 20 March 2018-'New Beginnings' -Mrs Alyson Christie
Mrs Alyson Christie from St Andrews entertained members and visitors with her gorgeous arrangements-here are a few.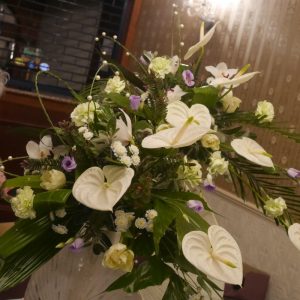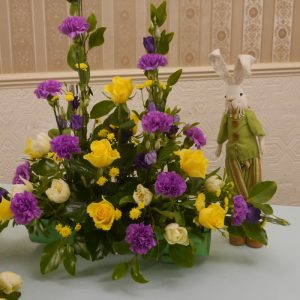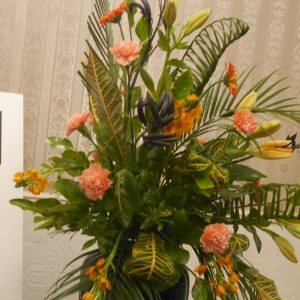 20 February 2018- AGM plus 'Don't stop me now'-Karina Murray
We had a very successful AGM, with business and appointment of new office bearers completed at the start of the evening followed by a highly entertaining demonstration from Karina Murray who entertained us with stories of both preparing exhibits for shows and then as a show judge.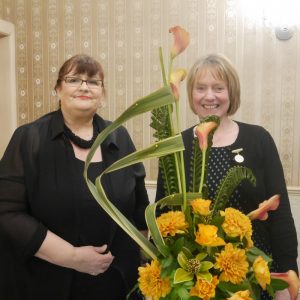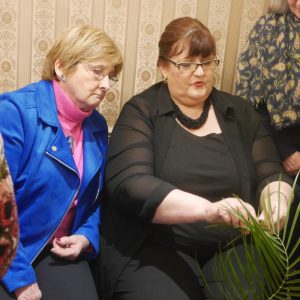 Pictures -Karina with club member Lynn Bryce who won this arrangement
and Karina demonstrating to Jane Pennington how to plait palm leaves
Past Meetings for 2017
Meeting of 5 December-Seasonal Splendour-Linda Soutar
Members thoroughly enjoyed Linda Souter's seasonal arrangements, along with our Christmas punch and hamper raffle.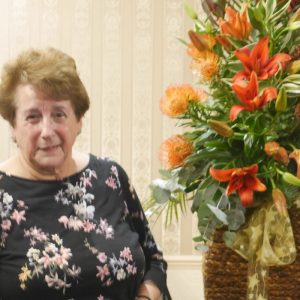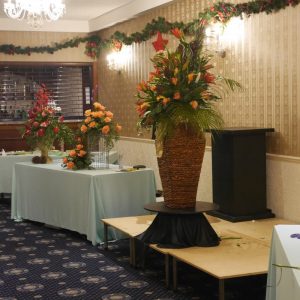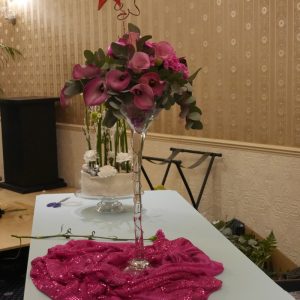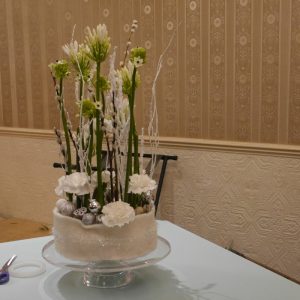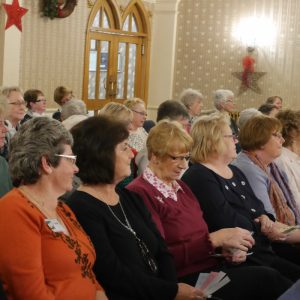 Members checking their raffle tickets
Meeting of 14 November-Especially for You-Joan Robertson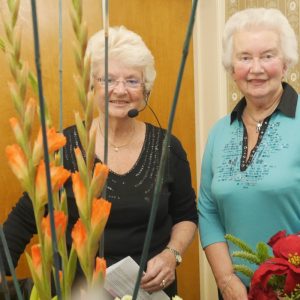 Joan Robinson, from Wigan entertained members and guests with inspirational designs based on her travels to Bangkok, Hong Kong,Dubai and Japan. Joan is on her first tour to Scotland. Club members wished her well for the rest of her tour.
Meeting of 17 October-Autumn Madness-Steve Ludlam
Steve, Hazel and Wilma take time to catch up prior to Steve's entertaining  demonstration of Autumn Madness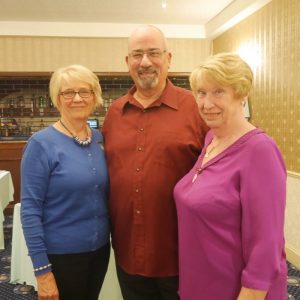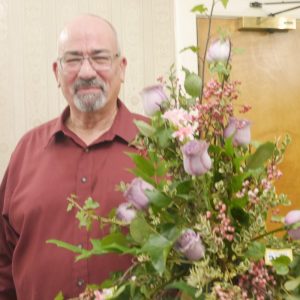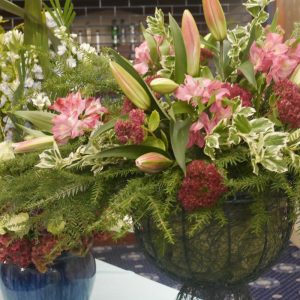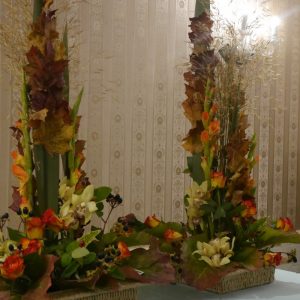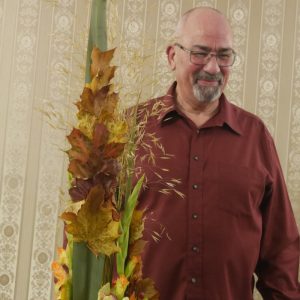 This meeting included our bottle stall to aid club funds. Many a lady left with clanking bottles in their bag !!
And as always our monthly raffle, news board and a well deserved cup of tea.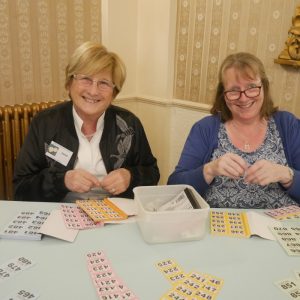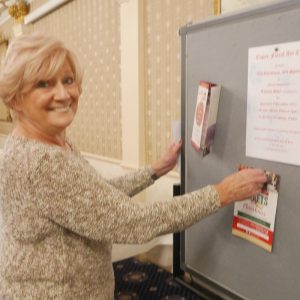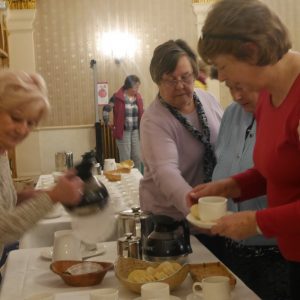 Meeting of 19 September-Due to the sad loss of Mrs Peggy Reid, Cupar -a SAFAS demonstrator and a dear friend of our club and also of Alyson Christie who had been due to demonstrate for us -Alison's demonstration 'Touch of Artistic Licence' was replaced by 'Here we go again' by our own Anne Buchan.
Anne's demonstration was warmly received, not only were we delighted by her beautiful floral arrangements and stories, Anne also passed on some very welcome tips
when using Hosta leaves in oasis cut stem to a point this will help in the placement
to glycerine beech leaves -empty one bottle of glycerine( available to purchase from chemists)  into a bucket  then fill the empty bottle with luke warm water (X2) and add to the bucket- mix well and then add your beech leaves-  Ladies there is not a lot of time left to successfully do this  year but if you are going to try Anne suggests you uses short stems-be patient though this process takes time- good luck!
if using bergenia leaves in arrangement submerge in water to condition them prior to use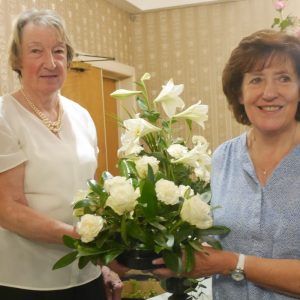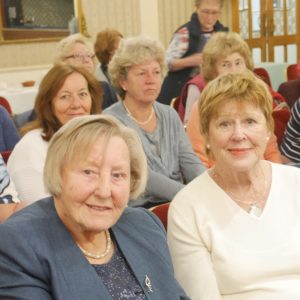 Anne on the left hands over one of raffle prizes to  Norma Wright
Some of our club members who enjoyed the evening.
Meeting of 16 May 2017-Flowers and Medicine
Members and visitors were entertained with Mary's stories about her training and life as a nurse. Mary also informed and quizzed our knowledge of the medicinal powers of plants and flowers.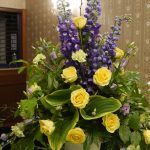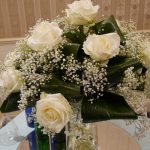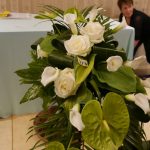 Pam was one of our lucky raffle winners-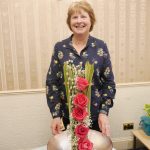 Meeting of 18 April 2017-Woodland Walks
Derek Morgan who is currently on tour entertained us with tales of his time working for the Forestry Commission while making these lovely arrangements.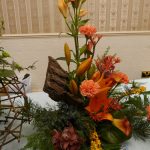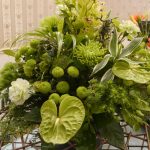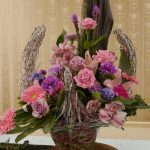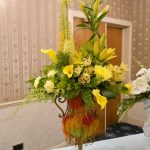 Club member Irene was delighted to win this arrangement in the raffle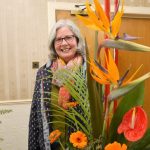 Meeting of 21 March 2017-Here we go again
Marie Rutherford was our demonstrator  and created these arrangements.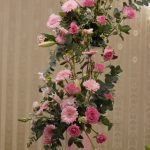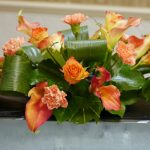 Club member Wilma with her raffle win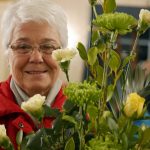 [/vc_column_text][/vc_column][/vc_row]