On Saturday Anne Buchan held the second of two workshops to encourage practical flower arranging.
Ideas for a table decoration or a mantle piece arrangement based on a Christmas theme were followed up with a wreath decorating session. Plenty of ideas were exchanged amongst over a dozen members who created season displays.
There was even three generations out of four generations from the same family enjoying the magic of flowers for Christmas.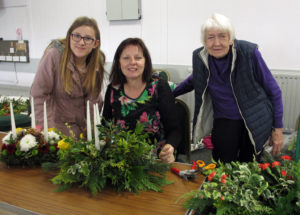 As always Anne shared extra foliage and accessories that the more absent minded may have forgotten to bring or simply did not find in time for the workshop. Although only mid November no one left short of inspiration to plan the perfect festive home décor.
And the end result :-